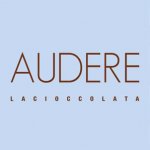 AUDERE LA CIOCCOLATA
Audere srl is a young and dynamic Company, handcrafted engaged in the processing and exploating of raw cocoa and its derivates. Audere srl is the brainchild of two childhood friends, who have choosen to cultivate their common passion for chocolate; Diego and Riccardo, motivaded by innate enthusiasm, form what is now Audere srl.Audere LACIOCCOLATA is not only chocolate in the strict sense of the term, but is everything deliciusly that orbits around the world of chocolate. DARE is our motto, AUDERE is the instrument. We believe in the ITALIAN EXCELLENCE, investing, producing and growing, pursuing a concrete target.
RAW MATERIAL, respect of every single characteristic of the nobilist cocoa, using single origin and blends, coming from this precious gifts birthplace, Central and Latin America and Africa.
Use raw materials such as rice, honey and its derivates exclusively certifcated and guaranted MADE IN ITALY.
Respect customer's needs in nutritional values as well as its excellent organoleptic characteristics.
RESPECT OF THE PEOPLE AND THE ENVIRONMENT: to promote the ethics and Fairtrade, we only work with those suppliers of raw material who are conscientiously engaged, in the protection of the enviroment and it's growers.
PRODUCTION, to produce chocolate that is hand made and hygienically safe.
Curiosity, an openmind and the ability to aquirenew knowledge are the essential characteristcs of who collaborates with Audere. To become the author of ones own destiny, always asking "why" and to never simply "do".