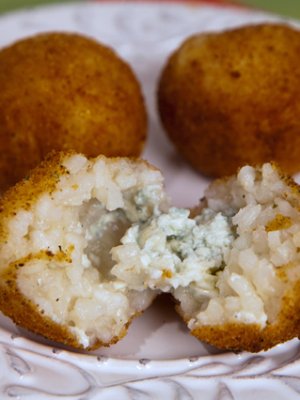 Arancini Gorgonzola
Sicilian rice balls with a creamy cheese center.
Arancini di riso or Sicilian rice balls, can be made with a variety of different fillings, however the one combination that always gets rave reviews is this simple blue cheese and mozzarella combination.
I added grated mozzarella to the gorgonzola to mellow the blue cheese just a bit, and to ensure the filling melts nicely when you cut into the rice ball. I've found the easiest way to assemble these rice balls is to mix together the gorgonzola and grated mozzarella and then shape the cheese into olive sized balls. I take a small handful of rice, flatten it a bit in your palm, and then wrap it around the ball of cheese. These risotto balls make great party food, and you can even fry them 3-4 hours in advance, and then reheat them at 350 degrees F. just before serving, though they are always best immediately after they are fried.
Makes approxiamtely 20
Preparation time 30 minutes
Cook time 20 minutes
Ingredients
1 Recipe Basic Risotto Parmesan Left To Cool For At Least 4 Hours or Overnight
2 Ounces Gorgonzola Picante
2 Ounces Mozzarella, Grated
1 Cup All-purpose Flour
2 Eggs, Lightly Beaten with 2 Tablespoons Milk
3 Cups Seasoned Bread Crumbs
Oil For Frying
Directions
Combine the gorgonzola and mozzarella cheeses and mix with a fork to combine.
Take pinches of the cheese and shape into olive sized balls for the filling.
Take a small handful of rice about 2 tablespoons in your hands and shape into a shallow cup in the palm of your hand.
Place in the cup, one of the cheese balls, then enclose the rice around the cheese, and roll into a round ball.
Set out three shallow bowls, one with flour, one with the egg mixture, and one with the breadcrumbs.
First roll the balls in the flour, then coat with the egg mixture, and then roll in breadcrumbs.
Set the coated rice balls on a baking sheet when they are completed.
Heat the oil in a large pot or deep fryer until a frying thermometer registers 375 degrees F.
Carefully slip 3 to 4 balls into the hot oil at a time, and fry until golden brown.
Drain on absorbent towels, and keep warm until you are ready to serve.