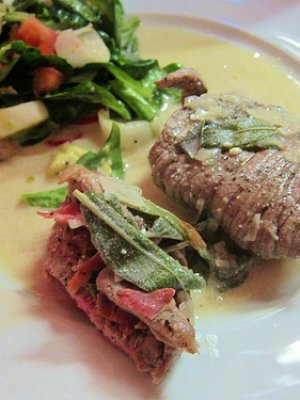 Involtini alla Romana
INGREDIENTS: 4 veal slices, 100g of ham slices, 100g of sliced smoked cheese (scamorza), 4 sage leaves, 1 bunch of aromatic herbs (thyme, sage, rosemary), 4 tbsp of extra virgin olive oil / salt to taste and ground pepper to taste.
Lay the veal slices on a cutting board and put a slice of ham and smoked cheese on each of them. Roll up the slices and secure with toothpicks. Place a sage leaf on top and fix with a toothpick. Chop the aromatic herbs finely. In a pan, heat the oil, put in the rolls, add the chopped herbs and brown. At this point, add a ladle of broth, if necessary, and salt to taste. Cover with a lid and cook the veal rolls on a low flame, turning occasionally. Once cooked, add pepper and serve with the cooking sauce.