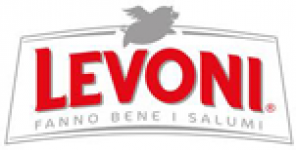 Levoni SpA
Milan, 1911: Ezechiello Levoni rented his first salumi factory at the gateway to this large city. This was the beginning of a story that would turn the Levoni name into a symbol of quality worldwide. Only two years later, in 1913, London's International Exhibition for Modern Arts and Industry rewarded the uncompromising quality pursued by Ezechiello. The gold medal awarded to the Hungarian Salami produced at the small artisan factory of this young unknown Italian, was a surprise for all those British gentlemen who had sardonically stated, (quoting a famous Anglo-Saxon saying), that Levoni would only win, 'when pigs grew wings'. The motto «mai ali!» (Wings never! Simply by altering the spelling of the Italian word for pig) adopted by Ezechiello, and the winged pig used as the company symbol, are still today a reminder of this victory, achieved thanks to the will to produce nothing but excellent salumi, but with humility and passion.
Quality without compromise
Only natural ingredients, selected meats, the best spices and aromatic herbs from around the world, lengthy maturations, recipes created according to the tradition, a totally natural smoking method: Levoni quality is the result of outstanding raw materials and a combination of artisan care with the highest industrial safety standards. Rigorous controls and full supply chain traceability are a guarantee for consumers who can rely on Levoni's attention to food allergy and intolerance problems: in fact, Levoni deli-meats contain no gluten or lactose.
Get a 50HK$ discount on your first $700 purchase!
Are you in the Loop?
Don't miss the latest deals at Buonissimo
Hong Kong
Kowloon
New Territories
Discovery Bay
Follow Us
Room 603, 6th floor
Shun Kwong Commercial Building
8 Des Voeux Road West
Sheung Wan, Hong Kong.
根據香港法律,不得在業務過程中,向未成年人售賣或供應令人醺醉的酒類。
Under the law of Hong Kong, intoxicating liquor must not be sold or supplied to a minor in the course of business.