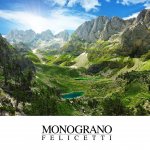 Monograno Felicetti
The origins of an extraordinary pasta
Monograno: the name in itself tells the story of this unique project. A single type of wheat, a single mill that grinds it into flour, a single goal: the pursuit of quality, which to us means producing food that is delicious, healthy and safe. We take the wheat from the field to your table with minimal processing, preserving its distinctive natural qualities. Matt, Kamut, Farro and Il Cappelli: This superior wheat is different shades on a broad palette of sensory experiences. Monograno means way more than just texture or flavor: it is a journey of exploration.
The adamantine, charming purity of spring water and the crystalline clearness of mountain air meet the golden ripe wheat; we work in a truly enchanted environment, yet it can be severe at times. This has inspired us to engage in a continuous dialogue with a nature that we sincerely love and respect, so that we could turn an arduous trail into a bright path. In the end, the summit rewards all the efforts.
Our commitment to organic
Far from being just a play on words, this vision became our mission. The grains that we use come exclusively from certified organic farming. We process them using only the purest high altitude water and air, without altering the natural qualities of the raw ingredients. The love for what we do almost borders on obsession for details as we are committed to complying with the strictest cultivation and production standards. The good that tastes good.
Get a 50HK$ discount on your first $700 purchase!
Are you in the Loop?
Don't miss the latest deals at Buonissimo
Hong Kong
Kowloon
New Territories
Discovery Bay (Wed & Fri)
Follow Us
Room 603, 6th floor
Shun Kwong Commercial Building
8 Des Voeux Road West
Sheung Wan, Hong Kong.
根據香港法律,不得在業務過程中,向未成年人售賣或供應令人醺醉的酒類。
Under the law of Hong Kong, intoxicating liquor must not be sold or supplied to a minor in the course of business.