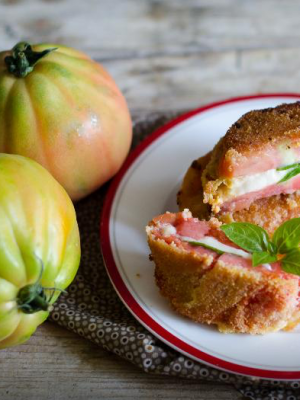 Caprese in Carrozza
A recepie that is a sort of middle way between a fresh and a delicious caprese Mozzarella and a Mozzarella in Carrozza ... two slices of tomatoes breaded and fried and juicy fresh mozzarella stuffed. If you prefer you can also enclose the tomatoes in two slices of bread, just as it does for the classic mozzarella, and then proceed with the breading.
INGREDIENTS (serving 4)
2 Ox heart tomatoes
200 g buffalo mozzarella fior di latte left to school
2 eggs
a little milk
a handful of flour
basil
Fry oil
Salt and Pepper To Taste.
PREPARATION
Cut the tomatoes into slices. Try to create the same (tomato size) slices of mozzarella. Create two sandwiches alternating tomato slices in a slice mozzarella, adding in between a couple of leaves of basil. Bread the tomatoes in the flour, then in the egg and finally pass them in the breadcrumbs. Fry in hot oil, add salt and serve!